Future of News Searching...
By
dabilen (1258998156|%a, %b %e at %I:%M%p)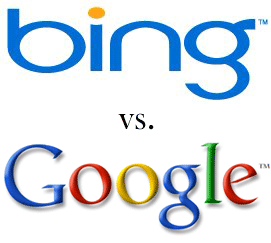 In early November a meeting was held in Europe between Microsoft and various large Media consortiums. The meeting took place soon after Rob Murdoch, CEO & Chairman of News Corp, announced he was potentially banning [www.google.com Google] from indexing the many media sources that News Corp owns. These resources include the New York Post and Dow Jones & Company. If Murdoch was to cut Google's access to these resources they would not be able to present any information relevant to these resources.
A quick podcast presents the background on the issue rather concisely, if you are not interested in reading:
Currently Google is announcing that they do not fear this shift as they still have access to such vast amounts of data that losing these few sources, relative to their databases, would cause little or no change to Google's functionality and practicality. So, what does all this mean for the epic Google vs. Bing battle and more importantly the search engine industry as a whole?
Below is the development of this topic and the long term impacts that may make this "tiff" irrelevant…
Bing Builds Up Allies…
In essence, Bing is looking to build up News/Media allies to hopefully cripple Google, their undoubtedly number one competitor. Therefore they have begun to pursue a plan to become a premiere search engine by focusing on its new offerings, pushing a "pay to display" strategy, where Bing is suggesting News sources demand to be paid by engines in order to have them display their content.
Still unofficial, it seems Murdoch has begun to sidestep towards Bing. Currently News Corp is the third biggest Media conglomerate in the world, and second in the nation [Disney being the first]. Bing believes an exclusivity deal with News Corp would be a big win and would give them a competitive advantage to build up other allies. Critics are far more skeptic.
Google's Downfall?
Bing is working hard to publicize this potential allegiance, with lots of media covering the progress of Bing's relationships. That said, as previously mentioned Google is not exactly shaking in their boots.
A Financial Times report quotes Google UK Director, Matt Brittin, saying "economically it's not a big part of how we generate revenue," indicating that Bing is not a threat with or without this deal. Truthfully it is no secret that Google News is not the number one function for Google users. Therefore, this is more of an attempt for Bing to establish a niche in the industry in order to gain a competitive advantage. Whatever Bing's plan may be, they have many hurdles to jump over, several years worth, before really being able to come out of Google's shadow.
Does it Matter?
It has already been discussed that Google is not in great fear of this allegiance, but what about on the grander scale of the Search Engine Industry? PC World, a large tech blog, points to the fact that many people use many other resources in order to get their news including:
Direct News Paper Websites [i.e. www.NYTimes.com]
Social Networking Sites [i.e. Facebook]
Blogs
Twitter
Metasearch Engines
Actual Newspapers … ?
Regardless of where people are getting their news fix, it is clear that with Bing only focusing on hurting Google with these decisions they are missing a growing share of other resources. Most importantly as the all mighty internet becomes more polluted people are looking for outlets to get all their information from one place. Unless Bing uses this strategy to lock up all content in the Search Engine Industry, a breath-takingly laughable idea, they are not pursuing a long-term strategy with this move alone.
If competition pushes these two competitors, Bing vs. Google, to compete on these issues on their own there is a large potential for metasearches to grow as the online information "one-stop shop."
Metasearching
As online goers have started to get overwhelmed with the vast number of online resources, new search engines have been developed to simply source multiple resources through one query.
Metasearch Competitors
Next Big Industry Move
For now it is still uncertain how Bing's pursuance of these deals will unfold, but I personally do not think this is the best strategy. Especially given that Bing is trying to be a little more interactive and fun than Google, with the inclusion of pictures and easy travel, this strategy does not seem to align with their pre-existing strategy.
Bing needs to seriously consider what message they want to send to potential users otherwise they may confuse and push away their market. For more information on Bing's homepage and how it plays into their strategy click here.
page revision: 13, last edited: 30 Nov 2009 00:23