Bloglist
This page contains all my blogs from the whole semester. It is sorted in reverse order of the date that the blog entry was created.
by dabilen (14 Dec 2009 09:02; last edited on 14 Dec 2009 09:02)
by dabilen (14 Dec 2009 08:33; last edited on 14 Dec 2009 15:48)
How to Start Using this Wiki as a Solar Energy Industry Analyst
This wiki site is intended to offer a comprehensive overview of how to approach researching the many moving parts of the solar energy industry. In order to break down this task into more manageable pieces I have divided the necessary information to gather into various groups. From there I have indicated several tools that will help gather information from each group effectively. The groups are as follow: General News, Financial Movement, New Product Development, Corporate Players, Miscellaneous.
---
General News
As previously mentioned with the solar industry in full swing it is easy to get lost amongst the speeding information flow. That said, by identifying a few key resources to use as your "points of contact" for general solar insight you will be able to quickly get industry perspectives. These perspectives will help you define specific information paths to follow in order to do your very best as an analyst.
To make things easier, I have found throughout my time here that there are a few especially good resources to get this type of information. Here are a few:
Bloglines: This is a resource that is a great way to very easily get access to a lot of information that you can then quickly organize in various ways. For instance creating various folders to separate different types of sites from one another. To get a better understanding of this please take a look at my blogroll here and read my analysis of the tool.
Twitter Feeds: Recently I discovered through a twitter based service called Tinker, users can create their own event streams to give live streaming tweets based around your own discriminators. Here is the feed that I created in order to stay up to date with news articles that twitters users have been talking about.
---
Financial Movement
With the development of the Solar Industry, more people are hoping on the bandwagon, especially financial minds that are looking for ways to make money off of this new trend in the market. In order to keep up to date with the performance of the industry there are a few options. In the end, your role as an analyst, is to understand high level the financial situation of the industry, follow and report upon key solar indices and make recommendations on what are the next buy and sell decisions.
Google Scholar: This deep web tool is a great way to access expensive databases to get high quality reports discussing the solar industry in a comprehensive fashion. One such database it New Energy Finance. Running a simple query I got many of relevant results, which can be viewed [http://scholar.google.com/scholar?hl=en&q=solar+"new+energy+finance"&as_sdt=2000&as_ylo=2009&as_vis=0 here]. By clicking on the second link you are taken to this page, where you can then download a full report. The report is a overview of how the financial crisis has affected the solar industry and its progress.
If you would like additional information that will offer a more in depth analysis of Google Scholar and another deep web tool please click here.
New Energy Finance: If your division has recently gotten any additional capital to grow your ability to research I highly suggest further investigating New Energy Finance. This site offers great, in depth reports discussing development in the industry from a financial level. Furthermore, users can use the dynamic tools to create specific graphs and information that paint a story relevant to their needs.
Claymore: With the solar industry gaining a lot of notoriety due to the high activity in the sector, it was only a matter of time before an Exchange Trade Fund, ETF, began to index and profit from the growth in business. Claymore has jumped on this horse and created the first ETF, and in doing so they have created a great website that offers a lot of information as to why they are making the financial decisions they are. Check out their website here.
As an analyst this insight will be extremely helpful in keeping you up to date and will even let you impress the boss now and again, as long as you use it regularly.
MAC Solar Energy Index: This Solar Index, SUNIDX, is an index traded on the NYSE that follows many solar companies from all over the world, the list and weight can be found here. In addition to having made an unbelievable return in the last 6 years alone, this index is a great place to read about additional news that is relevant in the industry using the news link, found here.
Although the cite does not have an RSS feed to follow, I would suggest setting up a page monitor account on Watch that Page in order to be emailed as additional articles are added. This way you do not have to constantly check the source for news updates.
---
Corporate Players
Using the MAC Solar Energy Index traded firms gives a good insight into what companies should be followed to stay updated about the industry.
First Solar: This is the largest U.S. based Solar company at the time and having been able to leverage its size, it makes for a good firm to monitor. Look here to decide which feeds you believe are most important.
Evergreen: Though small this company is also followed on the MAC Solar Energy Index and with good reason. This quickly growing company is finding ways to drive down the cost of solar panels to make it easier for homebuyers to reasonably afford this alternative energy source. Although they do not have any feed a simple page monitor of this page would do the job of keeping track of new developments related to the firm.
SkyFuel: Unlike the last two firms, this one is a private company that has made major strides forward in the Solar Thermal Industry, hence making it a possible IPO candidate in the near future. Once again using a page monitor on their news page will help keep track of any developments.
As an analyst insights and predictions like this one can really make you shine in the workplace. Make sure to take advantage of these opportunities.
---
Miscellaneous
Sources:
Pixolu: This is a great image website that is also a lot of fun to use. Additionally it has a great variety of pictures, with many high quality pics to choose from. When it comes to solar energy, pictures can be crucial in presentations and even for personal understanding. I suggest taking some time now and again to run queries here and begin collecting images that are not copyright protected.
YouTube: At this point everyone loves YouTube as a place to find goofy videos and waste a lot of time, but it can also be a valuable tool. For instance, here is a channel from ReThink Solar Power that provides some very helpful, visual lessons about why solar power really is so important. Basically this is a channel to help yourself in helping others understand the benefits of solar.
---
Additional Information
For any additional questions or concerns please feel free to reach out to me at moc.liamg|nelibad#moc.liamg|nelibad or by phone here:

by dabilen (24 Nov 2009 03:00; last edited on 30 Nov 2009 00:22)
Welcome To Bing
Every time any Bing user navigates to the [www.bing.com Bing] homepage they are greeted by a large, beautiful image. The image could be one of many things, ranging from a beautiful tucked away corner of an unknown nearby forest

to a beautiful exotic beach in a completely remote island or even a cultural picture of the simple daily activities of a few men in venice. Whatever it may be, these images are changed daily and offer users a unique experience when it comes to surfing the web, an escape.
This blog entry will not look to critique Bing versus competitors, or even its functionality for that matter. I simply intend to discuss the unique image feature and how it may or may not differentiate itself in the industry.
What is the deal with Bing's Pictures?
Although there may not be an officially announced reason as to why Bing has decided to include large, high quality pictures on its homepage, I think they have made a smart decision in doing so. The pictures keep you on the webpage for longer than a normal search engine homepage which may only be a query box. Additionally each picture has "hot-points" that a user can move their cursor over to reveal some information with some relevance to the picture.
That said, tried to put myself in the position of the Bing developers, and have to believe they think this will keep users engaged and fortify top-of-mind retention of Bing to users. This would therefore promote word-of-mouth marketing, arguably the most effective way to market a new product, although securing this loyalty is very difficult.
As you can see here, even once a query is run, users will see a small version of the homepage picture in the upper left-hand corner. Compared against Google, there is more of a visual stimulus, which is necessary since Google's fun logo has already offered some of the visual stimulus that the Bing logo alone cannot provide.
Where Do They Come From?
The images come from various sources, in fact if you were to move your cursor to the copyright symbol in the bottom right-hand side of the picture and click on it, the name of the picture and photographer will pop-out. Looking at the image below, I have indicated where this information is with the red circle.
Reading about the pictures themselves, it seems that Bing solicits the pictures from professional photographers or other pre-existing resources more often than not, although I would expect them to build a staff of photographers in the near future, if they have not done so already, to begin snapping exclusive shots for Bing. Additionally, in June they launched a contest for any interested person to enter their photo(s) to be selected as a homepage photo for the day. Photos were entered via the Bing Photo Sharing application on facebook. In the end only one photo was selected to be displayed in August, but it seems they may do this contest again in the future to further promote Bing.
Information
With every picture on the homepage, Bing has integrated 4 boxes, aka "hot points", which display different pieces of information relevant to the picture being displayed. Each piece of information also includes a link to another page, via Bing of course, which will provide more information about the picture. Information can be anything, from what destination is this to what kind of activities to do there to who likes this picture and why.
The variety of information that is provided is often loosely related to the picture, making it seem forced rather than something they thought would be useful. For example, one image of a beach has a info box saying that swimming is relaxing, beach reference, but it is good to dance afterwards, linking users to a page full of flamenco dancing videos … questionable connection indeed. Also, the physical placement of the boxes is rather obscure, I would think the boxes would be highlighting a specific feature of the image and would then provide info about it, that is not the case at all. Boxes are just scattered around to make users navigate their cursor all over the image.
That said, the pictures do make the search engine more of an experience rather than simply a reference resource. Please see the image below to see how the information "hot points" are displayed.
Why Should I Care?
If you are someone who likes to spend a lot of time on the internet, being entertained by rather silly features, this would be something you would be VERY interested in. If you are not that kind of person, this feature is still enjoyable, but in the end it is simply a novelty.
For Bing, this is a great move to get more word of mouth going about the website, as people discuss the beautiful images they see. Also, since the images change daily, users are possibly compelled to go back to Bing at least on a daily basis in order to see what destination they are traveling to today. Many websites have capitalized on this "one-day" phenomenon in another industry, retail. [www.woot.com Woot] and [www.gilt.com Gilt] have built their entire business model around the idea that users are likely to come to a website at least once a day if their is some type of incentive, in their case a short-lives sale. Bing does the same by putting a short, one-day shelf life on their images.
Good thinking Bing … now time to work on your search engine.
by dabilen (23 Nov 2009 17:42; last edited on 30 Nov 2009 00:23)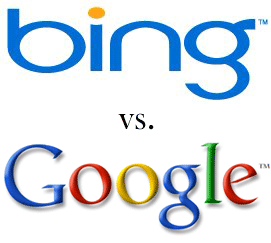 In early November a meeting was held in Europe between Microsoft and various large Media consortiums. The meeting took place soon after Rob Murdoch, CEO & Chairman of News Corp, announced he was potentially banning [www.google.com Google] from indexing the many media sources that News Corp owns. These resources include the New York Post and Dow Jones & Company. If Murdoch was to cut Google's access to these resources they would not be able to present any information relevant to these resources.
A quick podcast presents the background on the issue rather concisely, if you are not interested in reading:
Currently Google is announcing that they do not fear this shift as they still have access to such vast amounts of data that losing these few sources, relative to their databases, would cause little or no change to Google's functionality and practicality. So, what does all this mean for the epic Google vs. Bing battle and more importantly the search engine industry as a whole?
Below is the development of this topic and the long term impacts that may make this "tiff" irrelevant…
Bing Builds Up Allies…
In essence, Bing is looking to build up News/Media allies to hopefully cripple Google, their undoubtedly number one competitor. Therefore they have begun to pursue a plan to become a premiere search engine by focusing on its new offerings, pushing a "pay to display" strategy, where Bing is suggesting News sources demand to be paid by engines in order to have them display their content.
Still unofficial, it seems Murdoch has begun to sidestep towards Bing. Currently News Corp is the third biggest Media conglomerate in the world, and second in the nation [Disney being the first]. Bing believes an exclusivity deal with News Corp would be a big win and would give them a competitive advantage to build up other allies. Critics are far more skeptic.
Google's Downfall?
Bing is working hard to publicize this potential allegiance, with lots of media covering the progress of Bing's relationships. That said, as previously mentioned Google is not exactly shaking in their boots.
A Financial Times report quotes Google UK Director, Matt Brittin, saying "economically it's not a big part of how we generate revenue," indicating that Bing is not a threat with or without this deal. Truthfully it is no secret that Google News is not the number one function for Google users. Therefore, this is more of an attempt for Bing to establish a niche in the industry in order to gain a competitive advantage. Whatever Bing's plan may be, they have many hurdles to jump over, several years worth, before really being able to come out of Google's shadow.
Does it Matter?
It has already been discussed that Google is not in great fear of this allegiance, but what about on the grander scale of the Search Engine Industry? PC World, a large tech blog, points to the fact that many people use many other resources in order to get their news including:
Direct News Paper Websites [i.e. www.NYTimes.com]
Social Networking Sites [i.e. Facebook]
Blogs
Twitter
Metasearch Engines
Actual Newspapers … ?
Regardless of where people are getting their news fix, it is clear that with Bing only focusing on hurting Google with these decisions they are missing a growing share of other resources. Most importantly as the all mighty internet becomes more polluted people are looking for outlets to get all their information from one place. Unless Bing uses this strategy to lock up all content in the Search Engine Industry, a breath-takingly laughable idea, they are not pursuing a long-term strategy with this move alone.
If competition pushes these two competitors, Bing vs. Google, to compete on these issues on their own there is a large potential for metasearches to grow as the online information "one-stop shop."
Metasearching
As online goers have started to get overwhelmed with the vast number of online resources, new search engines have been developed to simply source multiple resources through one query.
Metasearch Competitors
Next Big Industry Move
For now it is still uncertain how Bing's pursuance of these deals will unfold, but I personally do not think this is the best strategy. Especially given that Bing is trying to be a little more interactive and fun than Google, with the inclusion of pictures and easy travel, this strategy does not seem to align with their pre-existing strategy.
Bing needs to seriously consider what message they want to send to potential users otherwise they may confuse and push away their market. For more information on Bing's homepage and how it plays into their strategy click here.
by dabilen (04 Nov 2009 17:30; last edited on 30 Nov 2009 00:29)
Nowadays, the green movement has taken a more grass roots independent shape. People all over the nation and world have been taking the initiative to have their own impact on the world, by reducing their footprint. This fad has affected the Solar world as well. Nowadays there are plenty of ways to make changes that will pay dividends back to you, your community, and event he world in years or even months.
Solar Panels
Home installation
Benefits:
Rooftop installation
How To Steps
asd
Solar powered water heater
Good way to help the environment and save you money
Here is a short video describing the benefits:
City Council Discussions
…
Off Peak Energy Usage
- Promote the use of other energy sourcese
by dabilen (28 Oct 2009 06:08; last edited on 25 Nov 2009 16:17)
Now that you have some insight into what Songza is all about it is time to get into the individual features that make it truly cool. At this point if you have not gone through the tutorial videos yet, it might be useful to do so in order to understand what is being said here. Click here to watch videos.
Playlist
Arguably the most convenient feature of Songza is the mobile playlist. Aza, a co-founder, described the usefulness of this playlist in that it moves with you, giving you the ability to access your playlist from any computer terminal. This way if you forget your iPod, smart phone, laptop, it is no problem you can still have your playlist with you.
Here is a picture of the main page of songza and as you can see the playlist is featured right in the middle of the page.
It should be noted that once songs are added to the playlist they can easily be deleted or moved around with simple point and click moves. Nowadays ease of use is an expectation, otherwise even the most savvy internet users will move on to the next competing search engine.
That said, as Songza is so young there are still several draw backs to mention. Firstly, you might ask why not just use the youtube playlist function. Since Youtube has the same playlist feature this is a fair question, but in response I would like to highlight three points:
Youtube has much more than music, so keeping your playlist to music might limit your functionality
As Songza grows it is working to add more information that from youtube, just yesterday I found a song that uses iMeem, another good online music listening service
It seems that only one playlist can be made and maintained, it would be nice to have multiple playlists
It is my opinion that in 3-4 months this concern of the youtube-songza similarities will be washed away. Additionally the multiple playlists concern is probably a work in progress, listening to multiple clips with the co-founders it sounds as though they really are working hard to deliver on the desires of users.
Twitter/Facebook
Directly on Songza you can tweet a song you like or post a facebook message, or simply email a link or place a link on your own blog. The first two features are the ones I thought were the most convenient. At this point in time integration is key. As seen in the screen shot below, the menu system makes it very easy to get to these options, simply click on a song of interest and the menu pops up.
Profile
Pretty simply, just like any social networking site this search engine lets you start an account and make a profile. Think of it as igoogle to google, create your own profile, customize your homepage and then utilize their search tools. As I said, pretty simple, but simple is good especially when people think complex = intelligent. Trust me complex also = annoying at times.
Updates
On top of Youtube I just found that Songza now is pulling information from iMeem, another great resource for music listening, but it tends to have a lot of results that do not match, and there are an increasing amount of listening restrictions, coming close to the iTunes 30 second sound bite.
With that I am very confident in saying that Songza is actively growing their database and functionality.
What's Next?
Advertisement catered to musical interest. Artists can create their profile and market themselves, similar to PureVolume or LastFM. This is still very much a work in progress but will make Songza a great hybrid of a simple search engine, for music, and a blog for artists who want to create buzz around their group.
Currently Songza has integrated some keyboard shortcuts to make navigating from song to song easier but I feel that they will grow these abilities even more in the near future. Keyboard shortcuts are a huge selling point to me.
Spacebar will act as a toggle bwetween pause/play
Left/Right arrows will move users the next or last song
Click here to learn about their competitors
Return Home
by dabilen (28 Oct 2009 05:55; last edited on 25 Nov 2009 16:36)
Prior to my discovery of Songza I used a variety of websites to listen to music, legally download mp3s and discover new music. In order to truly understand the convenience of Songza it is good to see why the other guys do not deliver the same product or experience.
Here we will look at YouTube, Pandora, Pure Volume, SadSteve. The combination of these websites often a wide array of different music listening options. In order to properly discuss each resource I will give brief intros on each search engine and then evaluate each resource on the following metrics:
General Usage
Unique Offerings
Versatility
Cons
As of now this is the major songza competitor considering almost all resources that songza references come directly from youtube, even the youtube video is played on the left hand side as your music is played.
| | |
| --- | --- |
| General Usage | Overall very intuitive, simply type and go. |
| Unique Offerings | Youtube uniquely integrates video watching, with social network type blogging, rating ability, and related search results. |
| Versatility | There are millions of videos, that cover many things beyond music, which makes this a good place to go for a fun tune, followed by a good laugh, then a news update. This versatility gives youtube a competitive advantage over many other sites. |
| Cons | Youtube offers too much accessibility for users at times, which means you must often sort through lots of videos that do not match your requests. For instance - I do NOT want a 6 year old kids heavy metal version of my favorite Josh Groban holiday tune. |
Here you see the video player on the top left, search function in top center, blog/comments section on bottom left, and related videos on bottom right. Youtube is able to aggregate a lot of information in a functional way on a single page. A huge testament to the convenience of the search engine.
Final Verdict:
Searches seem to be somewhat more refined, at times an obvious search yields non-music results
Youtube offers much more than music, I prefer youtube for funny skits and songza for music
---
Pandora has been around for a long time and has made a great name for itself. From my usage of Pandora the best thing is that it exposes me to new music that I had yet to hear of, which is their idea behind making your "radio stations." They take user preferences and find similar songs that they believe you may like, and you can further cater your stations to your preferences as you indicate what you like and don't like from their selections.
Unfortunately, having used Pandora long enough I have found the same songs play on several of my stations … guess Pandora ran out of options for me. Additionally you can NEVER indicate what song you want to listen to, that would violate their copyright deals with artists that are on Pandora apparently. That is a big draw back
| | |
| --- | --- |
| General Usage | This website is a randomized online radio stationed player. Users type in an artist or song of interest and the website begins randomly generating related songs. Additionally, users can add additional songs or artists to their station, which they call adding "variety." |
| Unique Offerings | With the randomized generator and variety adding options, Pandora is a great way to be exposed to new music. Pandora creates connections to new artists that users may not have known about, making it a new age jukebox. |
| Versatility | Only offers music, but it offers A LOT of it, which is great. Since users can create as many stations as they would like you can have a radio station for every mood that you are in. |
| Cons | At times it is frustrating to have no control over what song you can listen to. Also, since Pandora pays for each song it plays it only lets you skip a small handful of songs before making you wait for about 20 mins. Lastly, there is a cap of 40 hours per month, an issue when you are working those long 80+ hour work weeks. |
Pandora shows songs being played in the center scroll bar and provides information on the artist being played in the bottom center box. In that box users can also be navigated to band websites, places to purchase their music or other information. A nice tool that helps advertise for the bands here, incentivizing their involvement with Pandora.
Final Verdict:
Songza's suggestions can be compared to Pandora's random player output in a more controlled environment - you can pick what you want on Songza and go from there.
Pandora will still always where I go when I want to listen to music in a mindless fashion, but Songza will be where I go when there are specific songs I want to hear
---
Emo music lover's heaven. This station is a great place for upcoming artists to create a profile and publish new music. It is a great way for me to get my punk/rock/emo musical fix for the year in a short time frame, so it is efficient, I will give them that. The drawback here is the scope of artists. It seems PureVolume has created a niche to cater to small punk rock groups, the interface lends to the moody vibe.
| | |
| --- | --- |
| General Usage | The best place to go to find and listen to up and coming rock bands. Simply type in a name or song to go to a specific band profile or use the suggestions on the home page to discover new bands. |
| Unique Offerings | PureVolume promotes bands to actually come to the website, create profiles and post their music for public listening. Since many of these bands are new, this is sometime the only place to listen to a lot of music that other websites, pandora and youtube, do not play or have in their database. Lastly, some bands put their songs on the site for free download, which is nice since these small bands often have no outlet for distribution |
| Versatility | PV has not appealed to many non-rock bands, that said there is a wide gamut of sub-genres in rock: acoustic rock, hard rock, hip-hop rock, soft rock, etc. Therefore there is still an ability to get good versatility in music. |
| Cons | As previously mentioned, the site is rather exclusive to the rock genre solely as a product of the niche it has marketed to. Also, the majority of songs on the site do not have a download option, which would be nice to promote small artists who use the site. |
Here is a screenshot of the PureVolume homepage. As you can see the brooding vibe is very apparent. Also I would like to highlight how PureVolume openly promotes various artisits, which they shuffle through on their homepage weekly or even daily. This is the feature that I like in order to simply be introduced to cool new bands.
Final Verdict:
Due to PV's niche of rock music it cannot compete with the breadth Songza offers
PureVolume's selective download offering is a competitive advantage against Songza, that said quick development with Songza makes me believe this advantage might not be long lasting
---
An AWESOME place to download free/legal music. That said much like PV, it has a very limited breadth of songs available. Most artists are not too keen on releasing new hits for free. That said it is a great service that I take full advantage of on a weekly basis.
| | |
| --- | --- |
| General Usage | This is a simple search engine, search for a specific song or artist, cross your fingers for a positive result, then listen or download the song for free. Interface is nothing too special, but it does the job. |
| Unique Offerings | Free and legal downloads are hard to come by, this one, somehow, has seemed to navigate through the legal paperwork to make such an offering. Also, it is nice that you can listen to the song in a pop-out audio player and then choose to download it. This way you know the quality of your download before actually downloading. In the same pop-out window, users can email the song to a friend, post it to facebook, or even see the lyrics of their song [although this feature is often littered with mistakes]. Lastly, they have the "Percolator" option which will shuffle users through new songs that the creator's recommend, a good way to try out some new genres. |
| Versatility | Not too much here. The site only caters to music and has a rather small database. |
| Cons | There is a major issue with sustainability on this site, it has gone down a few times in the past due to issues with funds … there are none. The site relies upon user donations, which I would assume are not tax-refundable, hence providing little incentive. Additionally, as mentioned, the database is very small and full of mislabeled songs which at times make users sift through a lot of "crap" to get any decent results. |
The pop-out audio player on SadSteve pops out when a user clicks the play song button allocated to any song. Here the user has the option to download the song, send it to a friend, or even see the lyrics, although lyrics are not available for all songs and often are incorrect.
As you can see, the interface is very simple but gets the job done.
Final Verdict:
In the world of iPods and music on the go, downloading is a necessary feature, Songza cannot compete here
Versatility of Songza, since it routes from other websites, makes it a better choice for music listening when you are at your desk plugged into a computer
by dabilen (28 Oct 2009 04:17; last edited on 30 Nov 2009 00:22)
Introduction
Songza was the answer to a question I have long had, what is the best place to get access to a lot of free music simply. Additionally, I wanted a website with an easy interface and the option of listening to what I want to listen to not what is suggested. For a long time I have been using a variety of other sources to try and achieve this simple desire through a series of compromises and complications. Luckily through being a part of this class I have found myself being both pushed to further utilize the web as well as invigorated to do so. This find was a product of the latter.
To most appropriately introduce what Songza really is I thought it would be best said by Aza Raskin, the Co-Founder of Songza. Here is a short elevator pitch from Aza trying to promote Songza to a group of mysterious individuals, let us say it is to BIT 330 for the purpose of this blog.
As you can see Songza is not looking to blow people's minds with innovations, but simply answer a question many people may have, the question that I myself had and mentioned previously. What is really nice about Songza here is that as simple as the pitch is given is as simple as the service is. It delivers, simply, on its promise to let users listen to the songs they want to hear. From an interview hosted by the download squad, a youtube virtual review team, with the two Songza founders it looks like as the site's popularity grows they will look to cater even more to the desires of users.
How to Use It
As mentioned now several times the major appeal of this site is its simplicity. Arguably, the most important factor to its simplicity is a product of its interface. It is very modern and any aged computer user could pick it up quickly. There is a google like search bar, point and click on results to listen and from there a little bit of exploring will pay off as you uncover some nifty features, such as tweeting songs straight to your twitter.
Here are two videos, one short, one long, to teach the essentials of how to get rolling with Songza … choose wisely.

Pros/Cons
| | Pros | Cons |
| --- | --- | --- |
| Application | The ability to build playlists online and then access them from any computer terminal is a very convenient service that other search engines or technologies have tried to do and though some exist they are rather pricey and not necessarily convenient | Songs are not free to download, not a big surprise, but it means that you must use a computer to hear songs |
| Integration | Nice features of being able to post finds straight to facebook or twitter. Also, you are able to cater your use to your preference - if you want to find a specific song just search, but if you want a genre just search the genre | The interactive playlist feature is one of the most attractive aspects of this engine but unfortunately there does not seem to be a way yet to export that list to others on Songza or beyond |
| Breadth | Instantaneously searches through the millions of Youtube posts to find all relevant results | Currently only searches within Youtube, though that is expected to change soon, and at times returns results that are simply mislabeled or misinterpreted |
| Other | Keyboard shortcuts make this engine similar to itunes, spacebar lets the user pause or play the current song and the arrow keys will move the user from one song to the next. It is a really nice feature, especially for someone who loves keyboard shortcuts | … tbd. I am usually an optimist |
Final Thoughts
Overall, I think this is a very promising search engine for all of you who have a more eclectic music interest. In the past, present, and future there will be many more music SE outlets to get your audio fix for the day/week/year but it seems this one is making sure to grab those interested and create a buzz through viral marketing, which means they seem to have a long term sustainable plan. With engines coming and dying every second, it is important to find urls that are going to stick around, otherwise you will have wasted all your time blogging about dying sites [that is no fun I promise].
Additionally the ability to route what will soon be multiple music outlets into one is always handy … think of songza as the RSS feed reader to your news fix need. With the proverbial information highway constantly growing and creating greater, albeit proverbial, traffic jams it is necessary to keep things simple when possible.
Cheers.
by dabilen (21 Oct 2009 13:17; last edited on 30 Nov 2009 00:20)
Technology
Technology has advanced greatly, more so in the solar thermal area given the nature of that industry, it has become seen as increasingly effective in the public eye hence there has been more capital allocation to the segment.
One of the primary developments is the solar thermal trough. This trough, seen above, is a large very smooth mirror that is wrapped in a cylindrical shape around a tube, the Dewar Tube, which is the focal point of the mirror. Essentially as the mirror get rays of sun, the rays are concentrated on the tube and heat it up, which heat up the heat transfer fluid inside the tube up until it is hot enough to produce steam that will turn a turbine. In order to make these troughs effective, many of them are lined up in a large fields and aggregate to make reasonable sized outputs. This technology is currently 60%-80%.
Projects
Spain has long been the global leader in green energy project development, focusing on wind and especially solar energy. Given the geographic region of Spain, it has lots of solar exposure year round which make it an ideal land to cultivate solar energy. Additionally, the government has been very supportive of the technologies within this industry, which has provided increased incentive.
With that said, this wiki looks to focus on solar development and its specific application within the US. Recently solar energy has found itself to be a more reasonable and reliable investment and hence has attracted a lot of interest from VC/PE and now even IB firms. In California alone there is currently 10,000 MW of projects underway or in the final stages of financing, with an additional 6,000 MW of projects in the pipeline.1
Government Stimulus
The US government has been in a phase of major change, and that rings very true in the energy world. The Department of Energy (DOE) has been allocated a multi-billion dollar budget to help sponsor or aid many projects that have a full business model developed yet finding difficulty in setting up financing. Though it is difficult to get DOE funding approved, if your business is legitimate with sound future projections then DOE will give you more serious consideration where other weary investors might not.
by dabilen (21 Oct 2009 06:04; last edited on 30 Nov 2009 00:12)
What is Solar?
As green becomes the new … white the masses have had their ears pop up in regards to anything about energy. These shifts are popping out across several industries, primarily hydro, biomass and wind energy.
The solar industry has really grown into its own it's own unstoppable machine over the past decade. Out of all the innovation within the smaller solar industry within the larger renewables industry we have found the Photovoltaic (PV) energy and Thermal energy have become the two major sub-segments where the majority of product and development has taken place.
Within these sub-segments PV is much more mature, we will look more into the reasons for this timeline of development, but it should be noted that there is much more activity of this technology for this reason. That said, thermal energy has made a truly remarkable impression within solar in a short period of time as the
Photovoltaics
Definition
The application of solar cells for energy, carried out by converting solar energy directly into solar electricity.2
History3
The birth of PV technology can be traced back to the early 19th century when French physicist Alexandre Edmond Becquerel discovered a physical phenomenon - conductance rises with illumination - in year 1839. While working with metals electrodes he made this startling discovery.
From this discovery came many more. Over the next century few scientists unknowingly came across various relevant discoveries. In 1873 and '76 two scientists discovered the importance of selenium in creating the photovoltaic effect - photons knocking electrons into a higher state of energy, creating electricity. Later, in '87 another scientist discovered that UV rays increased the photovoltaic effect.
By 1918 polish scientist, Jan Czochralski, had created the first silicon solar cell, similar to the solar cell panels we now know today. From this springboard, solar cell developments took place relatively quickly. As this technology grew its application became more widespread. Once 1980 came around there was a large scale market competitor, ARCO Solar, and by 1981 solar cars were already in the pipeline.
Modern Day
At this point PV has developed into essentially two segments, large scale and small scale. Large scale PV encompasses large plants that use PV as a source of energy that will hopefully replace other producers for local neighborhoods, towns, cities, etc. On the other hand small scale is the more common rooftop installations that homeowners do in order to shift away some of their energy bill to self sustaining energy, look cool, inspire change, or simply to keep up with the Joneses.
Whatever the case may be, these two segments are growing very quickly and the forecast looks promising for this now well developed technology.
Solar Thermal
Definition
Technology for harnessing solar energy to create thermal energy, hence solar thermal.
History4
Although Solar Thermal has not gotten the attention of PV in recent years, the birth of this technology can also be traced back to the 19th century. Currently, solar thermal technology usually refers to larger scale projects that placed hundreds of mirrors in a circular pattern in order to heat up a common water source, which looks to boil and produce steam in order to turn a turbine and produce electricity.
That said, looking at an ad from 1891, we can see that a different interpretation of the now prevalent solar thermal technology existed. Its main application was the water heater, as seen in the image here.
At this point, it is hard to really speak to the solar thermal technology beyond its initial use to heat personal home water heaters, as the current technology is just barely breaking through as highly regarded energy source.
Modern Day
Nowadays there exists over 600 MW of solar thermal energy, with an additional 14,000 MW in active construction and various other stages of the pipeline. These large numbers show the promise the world has for this technology, as it has gained a lot of buzz recently as it has proven to be very efficient and relatively cheaper than PV technologies.
Why Solar?
I say check out the rest of this wiki and then ask yourself this question once again. Start here.
by dabilen (21 Sep 2009 15:00; last edited on 21 Sep 2009 15:01)
By %%author%% (%%date|%a, %b %e at %I:%M%p%%)
%%content%%
putBlogContentHere
by dabilen (21 Sep 2009 14:50; last edited on 21 Sep 2009 14:50)
"I really have almost no idea what is going on here. This is a pure jump into the dark as far as blogging goes."
page revision: 0, last edited: 21 Sep 2009 14:48